Amazon Used A3001
The package ship from US, only can ship to US.
❶ Adopt The Instruments TPA3255D2 chip, NE5532 op-amp. Very Quiet, Runs Extremely Cool,Easy to set up,Ship With 32V 5A power adapter

❷ HiFi Mono integrated class D amplifier, Exclusively designed for the customers who pursue HiFi sound,High efficient power output to 200 watts RMS into 2-ohm loads, 150 watts RMS into 4-ohm loads or 120watts to 8-ohm loads

❸ Built-in low pass filter for Subwoofers With Full-Frequency and Sub Bass Switchable,Can be switched to subwoofer bass or full frequency mono amp, Can be connected to passive suboower,active subwoofer or passive speaker

❹ Simple compact design,And the exterior design is delicate and beautiful little amp,It can match with your computer/ desktop /Home theatre system and so on

❺ Please read carefully before buying and use it properly. If you need technical help, please contact the seller for support:www.amazon.com/hz/help/contact/A3BG62S1F23IH5# .Or leave any of your instant messaging account and I'll contact you.thanks!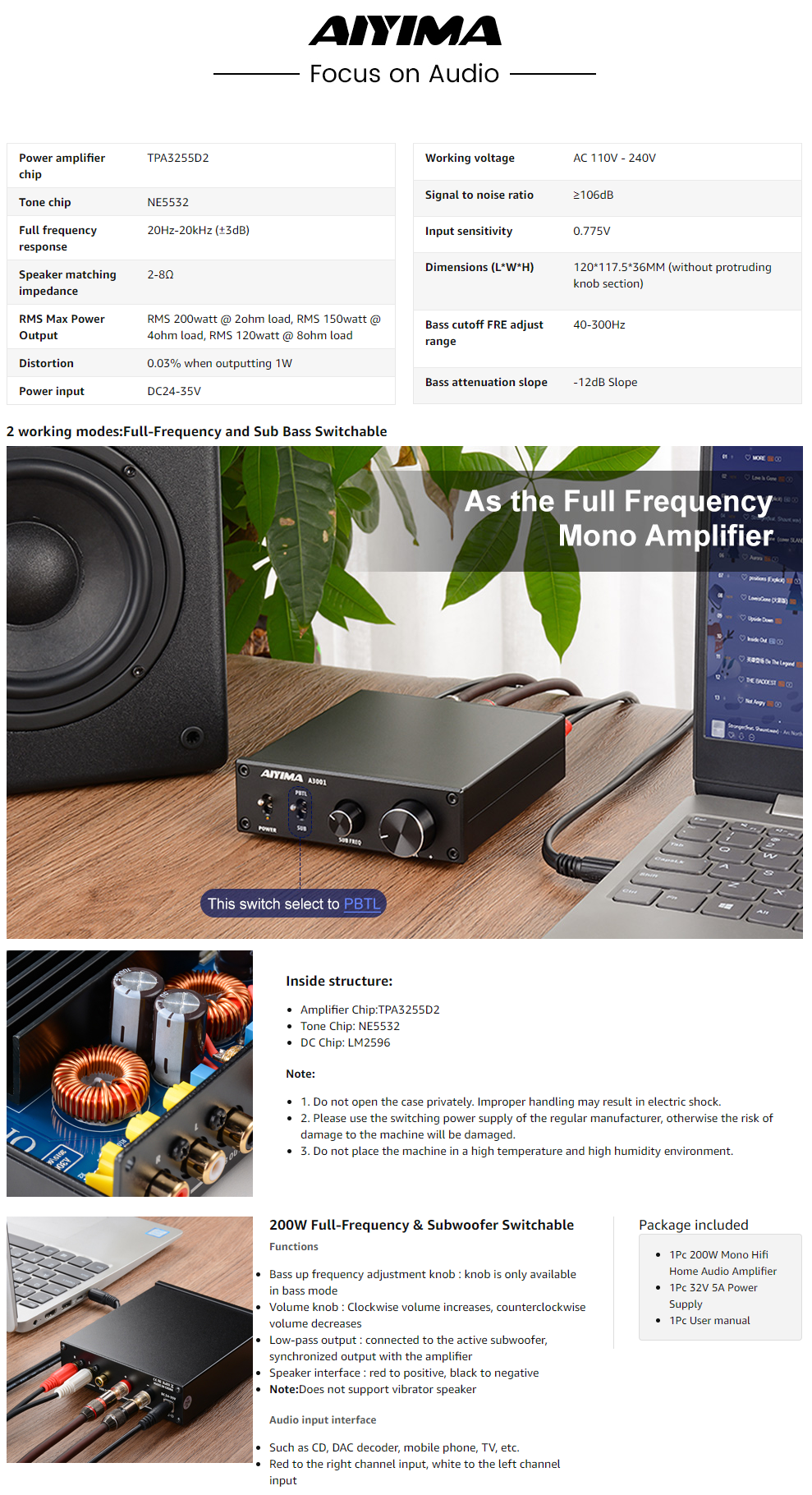 All items in store may take 2 to 5 business days to process.  Please add processing time to your shipping estimate below.
Here is an estimate of the shipping times.  Due to factors that often affect international shipments, such as holidays, customs, and weather delays, we can only offer an estimate of shipping times. 
| | |
| --- | --- |
|  Location | Estimated Shipping Time |
| United States | 10-30 business days |
| Canada, Europe | 15-40 business days |
| Australia, New Zealand | 15-45 business days |
| Mexico, Central America, South America | 20-60 business days  |
| Middle East (UAE, Saudi Arabia) | 20-40 business days |
SHIPPING POLICY
IMPORTANT: We are not responsible if a package is undeliverable because of missing, incomplete, or incorrect destination information. Please enter the correct shipping details when checking out. If you realize you have made an error, simply e-mail us at aiyimatech@gmail.com as soon as possible. However there is a 72-hour wait list for email, therefore, if your order has left our warehouse within 72 hours, it is out of our control.
Aiyima is not responsible for destination country tax and/or any duty charge that may incur. Customers will be held accountable for any restrictions, duties, taxes, and any other fees collected from the destination country.
Aiyima will not be responsible for any Duties, Taxes, or Customs fees under any circumstances.
If the order arrives in your country and...
• The customer refuses to accept the package
• The number of attempts is made in the country of destination to deliver the package.
Aiyima reserves the right to abandon the package(s) and will not be responsible for any refund.